John, weaving hastily between pedestrians during the morning rush hour, decides to buy a coffee before his business meeting. Gazing at his watch, he frantically pulls his iPhone to his face and says, "Hey Siri! Find the quickest coffee near me."
After a few seconds scrolling through the results, he comes across the Starbucks app that lets you order ahead and skip straight to your freshly made order at the pickup area. Several minutes later, he arrives at his meeting on time, coffee in hand and name on cup. Welcome to the modern buyer.
John's scenario may seem trivial, but the active research process he went through leading up to his purchase is not to be underestimated. Having acknowledged his desire for coffee, he was tasked with the decision of where to purchase from. His problem was his lack of time. Starbucks' response to its customers' on-the-go lifestyles provided the solution to John's problem. It motivated his decision because it offered greater convenience over other options. This three-stage process (awareness, consideration, decision) is known as the buyer's journey. It is a model to help keep the buyer's behavior, information needs and problems central to anything sales and marketing does.
In the age of the buyer, it's up to businesses to adapt. Starbucks has been named mobile marketer of the year award numerous times for its constant innovation in adapting to shifts in new technologies and understanding the evolving ways its customers like to consume information and purchase. With emerging technologies such as VR and AI no longer the works of science fiction, the question remains, what does the future of inbound marketing look like?
Social Media
It doesn't matter whether you're a B2C marketer or B2B marketer, ultimately you're a business to human marketer and humans live inside social channels. The rise in messenger apps like WhatsApp, Wechat and Snapchat are changing how we communicate, both as consumers and professionally. Whilst email remains an important marketing channel, we're likely to see a shift towards engaging with prospects inside these messenger apps. Actively reaching customers where they want to be met will facilitate more trust-based communications than traditional cold calls.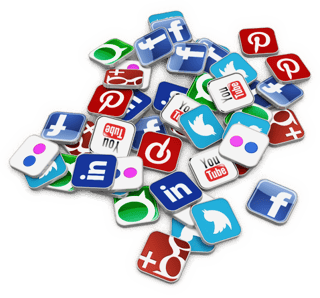 As we saw in HubSpot's report, content inside social channels is moving away from text and towards video. Customers are more inclined to engage with or purchase from brands they feel the strongest connection with. Video nurtures these kinds of richer responses because they help us to digest much more information. That explains why over one billion hours of content are viewed on YouTube everyday. A Facebook executive has predicted that the platform will be all video in less than 5 years.
The explosion in popularity of Facebook Live is giving way to more instant forms of cost-effective communication which companies are incorporating into their strategy to attract and retain audience's attention. In fact, Facebook Live videos are watched 3 times longer than videos that aren't. They also generate more engagement. Users comment on Facebook Live videos at 10 times the rate of regular videos. Since it's launch in 2016, daily watch time for Facebook Live has grown by more than 400%.
Last year, four million people tuned in to watch LADbible's Facebook Live ice-cream melting battle, which ultimately saw the almighty Magnum conquer a Feast after an embarrassingly early exit for Twister and Solero. Simplistic in nature and magnificent in delivery. This platform has opened up a plethora of new content opportunities that, If executed well, enables marketers to stand out within a highly saturated market.
Virtual Reality
For many customers today, an experience is inauthentic if it's not interactive. Although the technology is fairly new, we are starting to see brands incorporate virtual reality into their strategy in an effort to solve existing industry problems and enhance the customer experience. The property sector is a perfect example that can use the technology to improve the speed and quality of the buying and selling process by allowing prospects to view properties in true life-to-life definition through VR or online tours. Virtually walking through 50 properties in the time it would to visit one is clearly a major leap forward in the customer experience and we will likely see this technology have similar influence over other sectors too.
Artificial Intelligence
AI is here and it's not as scary as we envisioned. In fact, it's practically customary by now that our favourite shows miraculously appear when we log onto Netflix or when Amazon politely reminds us of other items we need to purchase moments before checking out. These "miracles" are simply the workings of computer algorithms specific to individuals that rely on big data. Machine learning of this calibre has proven extremely fruitful for companies in the strive towards hyper-personalisation and its use is becoming increasingly prevalent, especially throughout social media. According to Forbes, 53% of marketers plan to adopt artificial intelligence in the next two years. This will inevitably automate many repetitive tasks and refine the performance of campaigns, particularly social ads.
In 2012 HubSpot's co-founder, Brian Halligan, said "2017 will be the year of the bot." Five years later and here we are, doing a lot less navigating through apps and more chatting back and forth to bots. Turns out, we like it, it's immediate, efficient and we no longer have to wait for a sales rep to call us back. Unsurprisingly, this has caused a concern for salespeople who are no longer the gatekeeper of information.
From AirBnB to Uber, prospects have been trained in every industry to expect self service and automation. Whereas before the website augmented the sales rep's behavior, today the sales rep augments the websites behaviour. With buyers becoming more independent, sales reps are seeing their role transform from hard seller to trusted adviser. Savvy businesses will make the best of lowered buyer expectations by outfitting their sales staff with helpful insights to ensure they make a good impression when they finally connect with a buyer.
Change is here to stay
Since change is the only constant in life, we learn to embrace it, and marketing is by no means an exception. As technology evolves, so too will the best ways to interact with your ideal clients. Thanks to this evolution in technology, marketers have been given the golden peak behind the curtain with unprecedented insight into their consumers. This proliferation has fostered more accurate buyer personas and enabled marketers to create an extremely personalized user experience. However, it's also entitled consumers, making them harder to delight than ever before. Brands need to do more than "Dear John" to impress prospects and as a result, are seeing their roles evolve to keep apace with customer preferences and behaviours.
Organisations need to make content easier to find and use by increasing its quality and relevance to target audiences. Content inside social channels is moving away from text and towards video and businesses need to embrace this shift to ensure they are actively reaching audiences where they want to be met. VR is revolutionising some industries by helping business to create more authentic experiences which is streamlining the sales process as a result. AI is automating many repetitive tasks and more and more businesses are incorporating this into their strategy to refine the customer experience and performance of campaigns, particularly social ads. Despite all the technology we have, the best B2B marketing will always be about people and personal connections and the fundamentals of inbound marketing are the one thing that remain constant.