Social Media has seen rapid growth in recent years. According to Statista, an estimated 2.95 billion people were active across multiple platforms - with that figure looking to rise to 3.43 billion by 2023.
For brands looking to attract new customers or increase their reputation, Social Media seems to be the obvious answer. If used correctly, having a presence on social platforms can undoubtedly help with many factors.
However, sites such as Facebook, Instagram, Twitter, LinkedIn and Pinterest are busy places. The consumer has ever more buyer power, as they scroll past multiple posts every day, advertising anything from multivitamins to the latest releases in tech. It takes something very special for people to stop and pay attention.
Striking images and funny GIFs are great - but did you stop to think about whether they are being placed in the most effective place? Users of one Social Media site may prefer one type of visual media over another. Image dimensions are especially important to be getting right. With more and more people using mobile devices and tablets to browse the internet as opposed to traditional computers or laptops - your images must be perfectly sized to suit to the site you are aiming to reach.
facebook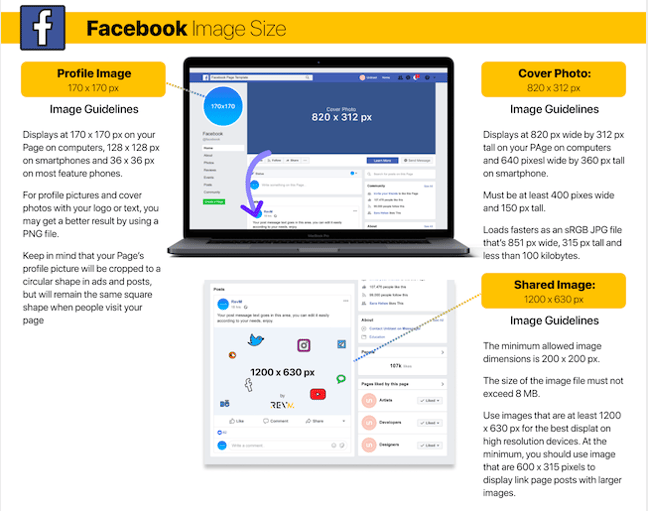 Currently, Facebook is the largest Social Media network in the world, with a staggering 2.27 billion users - the largest country in the world, China, has a population of 1.42 billion! It's no surprise that many brands usually visit Facebook as their first port of call when thinking about advertising on Social Media.
Facebook also gives users the option to create a business page, which can be a good way to promote your products or services aside from the usual paid advertising model. With so many users, it is highly likely that part of your target audience will have a presence on Facebook.
A 2019 study found that video posts outperform any other type of content on Facebook, with at least 59% more engagement. This is something to take into account when planning what kind of content users want to see. Facebook gives users a fair amount of space to post content and therefore videos and pictures should be large enough not to become drowned out by other content. Ideally, media should be 1200 x 630 pixels.
A cover photo, or banner image which sits at the top of your page, is valuable space which can be used to promote your brand - through using an image incorporating your logo or promoting an offer. Dimensions for these images should be 820 x 312 pixels. Profile images come in at 170 x 170 pixels and should also be the logo of your brand.
twitter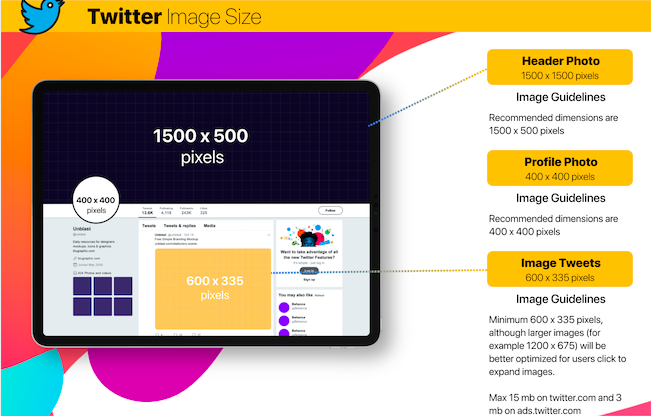 Twitters main audience is millennials, with around 81% of people born between 1982-2000 checking in with the platform at least once a day. Twitter may be ideal if this is the consumer group you are trying to attract to your brand. Twitter boasts 330 million active profiles, which although not as large as Facebook, still provides your brand the lucrative chance of capturing the attention of many potential customers.
Twitter is a great place to identify trending news topics, which brands can involve themselves in by using images or video to contribute to discussions. Posting visual content in amongst the text gives brands a chance to stand out. Again, posts that include images outperform those that don't - receiving 89% more likes or favourites.
Images and text should compliment one another, for example: if your brand has just released a new product, introduce the product through text and showcase the product through an image or video. Image posts on Twitter should be 600 x 335 pixels. Your Twitter header provides yet another space to get creative and include an eye catching graphic that presents your brand to users. Images should be 1500 x 500 pixels to fill this space. As with Facebook, Twitter profile images should be your brand logo and display at 400 x 400 pixels.
instagram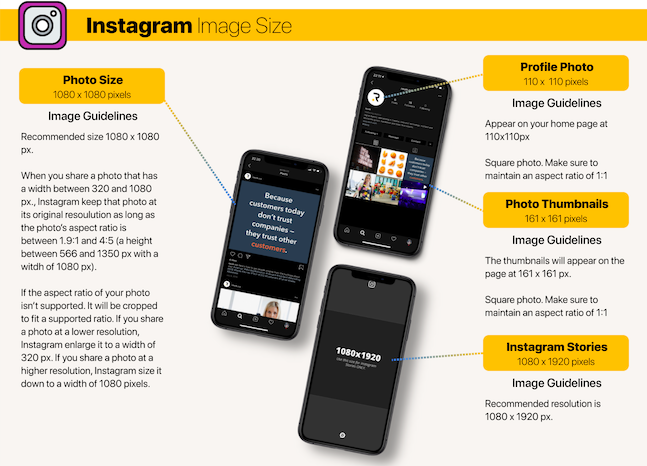 Instagram has a user base of 1 billion and is arguably the platform that focus on image and video more than any of the others. In fact, an estimated 95 million photos and videos are shared PER DAY. Instagram is an ideal platform at not just sharing images from your brand's profile, but also connecting with fans.
Images shared on Instagram can also feature a 'shop now' button, which when clicked, displays the price of a product and links users through to your website. With the right mix of content, users can be influenced to make a direct purchase from your brand via Instagram.
Instagram feeds offer the chance to get creative, colour schemes can be implemented to portray a more attractive or brand aligned feel to your page. General posts should be 1080 x 1080 pixels. As with most of the other Social Media sites, your profile picture should be your logo - and created at a 110 x 110 pixels.
A key feature of Instagram is the use of Instagram stories. Stories allow users to upload photo or video content in order further connect with their audience. Use this space to create polls for people to interact with, showcase a service or simply add another angle to your social presence. Ideal dimensions for Insta stories are 1080 x 1920 pixels.
linkedin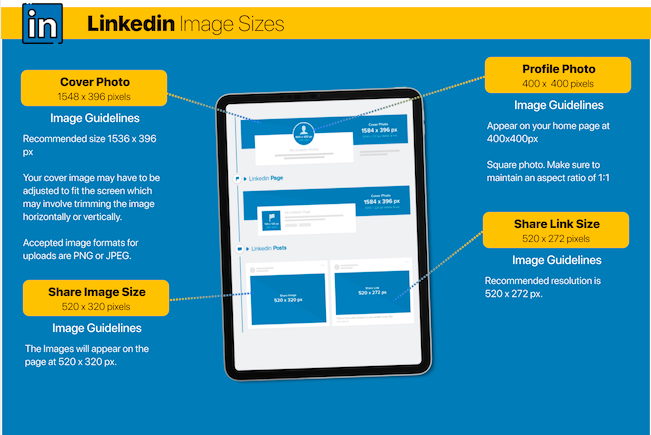 LinkedIn is the most 'professional' of the Social Media sites and allows users to have a presence as an individual representing your company as well as a main company page. Given that LinkedIn tends to have more of a professional audience, brands who focus on b2b marketing should consider concentrating their efforts through this channel.
When communicating from a company page, remember the golden rule - use photo and video content! LinkedIn themselves have reported that posts which include an image lead to a 98% higher comment rate than those that do not.
A nice feature of LinkedIn is that the site will you to upload multiple photos or videos within one post, an effective way at getting your message across and potentially reaching more customers. Keep your images from looking pixelated or distorted by using dimensions of 520 x 320 pixels for a general post, 520 x 272 pixels when a post that includes link is shared and keep your main cover image at 1548 x 396 pixels. Transmit professionalism, remain credible and introduce your brand to brokers by selecting a profile photo of 400 x 400 pixels (remember - this should always be your logo or a recognisable image inline with your brand).
PINTEREST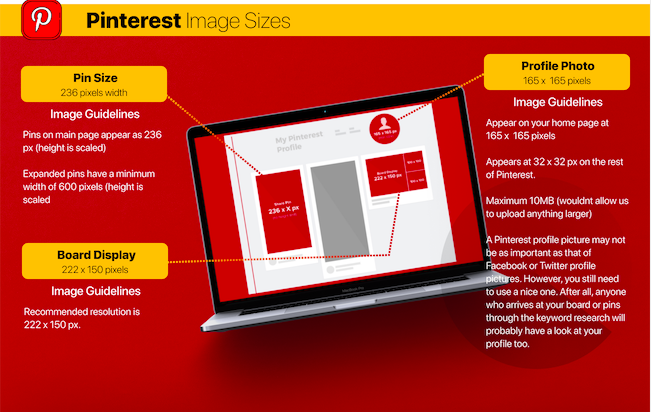 Similarly to Instagram, Pinterest asks users to create 'boards', consisting of images, which can be grouped into topics or displayed as one. Pinterest focus more on the visual appeal of a page, thus. drawing viewers in who can be converted into leads. Creativity and innovation should be your main method of building your Pinterest presence.
For example: a restaurant brand could create a board that features home cooking inspired versions of their menu, people can then 'pin' your board to come back to at a later date. Ultimately, this will help people connect with your brand and more likely to think of you as a credible source in future.
With around 200 million monthly active users, Pinterest is a site not to be overlooked. In fact, Pinterest can be a great website to upload your products to in the form of images and, get this, 87% of Pinterest users have said that they've made a purchase via something they've seen on the app!
Let's talk images. Photos which are displayed vertically work best on Pinterest and MUST be visually compelling in order to draw attention. Bland, stock imagery simply won't perform well here. Main image posts should be 236 pixels wide (length is automatically set), board displays 222 x 150 pixels and ensure your profile image dimensions are 165 x 165 pixels.
YOUTUBE

Last, but not least, is YouTube - the main Social Media site to incorporate video. Interesting fact - YouTube is actually considered to be the second largest search engine, where masses of people will flock to when wanting to find out anything from the latest fashion trends to where to visit on their next trip. With a user base of more than 1 billion, YouTube should be high on marketers lists when considering which sites to incorporate into their strategy.
Brands are able to create a channel and upload hours of video content, again, allowing them to connect with their audience and use an informative, educational or inspiring perspective when trying to reach more customers. Brands can also collaborate with other well-known YouTube channels to spread their reach even further.
Failure to use the correct dimensions when uploading a video to YouTube will result in two unsightly black bars being displayed at the edges of your video. This is a big no, no when it comes to uploading video content. The ideal size for your video is 1280 x 720 pixels. This will display clearly on pretty much all devices - without reducing the quality of your video too much. Your profile image is an introduction to your channel and should display clearly when people are browsing the site. Use image dimensions of 800 x 800 pixels here. Your channel cover image is the largest space given to introduce your brand. In order for quality to remain consistent on all devices, the dimensions should be 2560 x 1440 pixels.
conclusion
Social Media is a multi-faceted tool when it comes to marketing and attracting more people to your brand. Image dimensions make up just a small percentage of the Social Media world, but you should now understand why they are so important. Getting it wrong could result in negative perceptions of your brand, but get it right and brand credibility, reputation and reach increases! You can view the full image dimensions infographic here.
Chat to us to find out how Social Media can help your B2B Marketing.